Crawl Space Repair and Encapsulation
The team here at America's Basement Contractor has been fixing wet, leaky, moldy, and humid crawl space environments for many years now. We have a solid understanding of what works and what doesn't when it comes to repairs and solutions. We will be able to send a trained, knowledgeable tech to your home to evaluate the situation. Our tech will look at the damage which has already been done to pinpoint the cause of the leaks or humidity issues. Next, we will come up with a plan of action for getting the situation taken care of once and for all. We make use of NASH® vapor barriers and liners for encapsulation work and Santa Fe® Compact2 dehumidifiers for moisture control in the air.
Please be sure to click through the common problems listed in the menu to the left to learn more.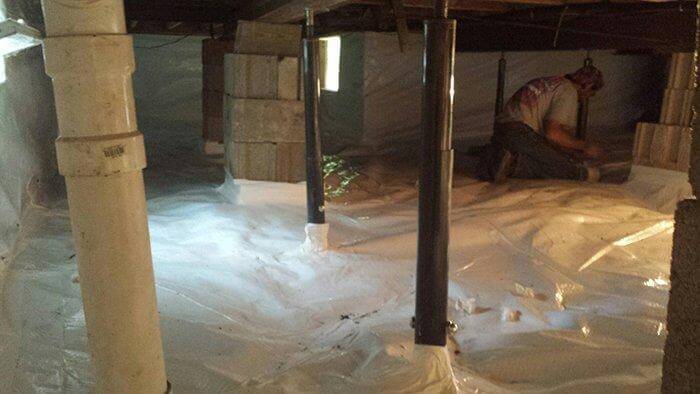 Warning Signs of a Problem
If you happen to notice any of the following, be sure to contact us immediately for a consultation.
Your home feels uncomfortable, even when the thermostat is properly set
Your home smells very musty or foul (indication of mold growth)
Moisture can be seen building up next to the footing on the home's exterior
Certain spots on the first floor no longer feel level (indication of wood rot)
Skin feels moist or clammy (indication of high relative humidity levels)
Crawl Space Project Gallery
Due to high levels of moisture and dampness, this crawl space was sealed with our White Cap vapor barrier to trap moisture away from the home.