There are two different types of cracks that our team can take care of. This includes the wall cracks, as well as those that appear on the floor. The causes for this type of structural damage are many. Wall cracks could be caused by the natural shrinking and curing of concrete or an underlying settlement problem where the home is sinking further and further into the earth. This puts an extreme amount of pressure on the walls, which could collapse under the pressure in vulnerable areas.
Floor cracks are often also caused by the natural shrinking or curing of concrete, or they may result from a rising and falling water table. Whenever it rains, or you have melting snow on your lawn, the earth quickly absorbs the water. This causes the water table to rise. During the summer and early fall months, your home may not see a lot in the way of rainfall. This is when the water table drops. When this rising and falling motion occurs, it puts a lot of pressure on the bottom of your home. Eventually, it can cause the floor to break in certain spots.
Both types of cracks cause damage and will need to be repaired immediately, regardless of their cause, before they start to let water seep into the home.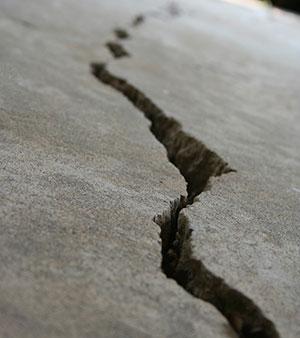 Diagnosing and Treating the Problem
Our team will first need to inspect the damaged area(s) to take care of the problem. This will help us determine the cause of the problem and the extent of the damage. Once we have pinpointed the root cause, we will then be able to develop a plan of action for getting the situation taken care of so that the structural integrity of your home is properly preserved.
If the problem is caused by the natural shrinking and curing of concrete, we can fill the cracks in using a process known as epoxy injection. The process starts with the surface of the wall or floor being cleaned off so that dirt and debris don't get inside during the repair. Next, the epoxy material is injected into the opening and it fills it up completely. Once it cures and hardens, water will not be able to get inside of your home.